Overview
KillDisk for Industrial Systems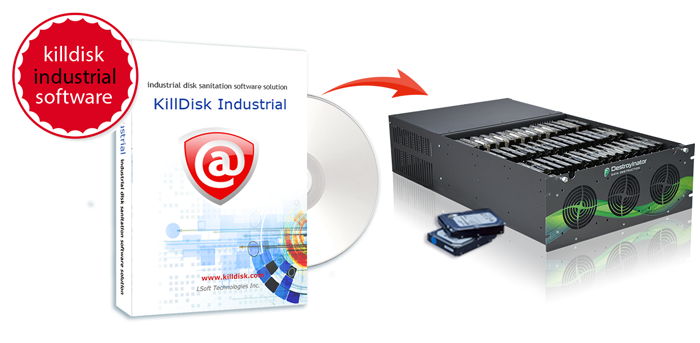 This edition of KillDisk is designed to provide a software solution for industrial workstations, configured to service disks in high volumes. KillDisk for Industrial Systems is distributed as a software package that may be installed on a disk erase workstation and used to examine, erase and even write images to individual or batches of disks. Highly customizable, the software is able to conform to any company standards - erasure standards, examination type, reporting, error handling are only a subset of the configurable settings KillDisk supports. All elements of KillDisk's operations may be documented in XML reports, PDF certificates, or even printable labels for erased hard drives. Versatile, easy to navigate and rich in features, KillDisk for Industrial Systems is the ideal KillDisk solution for recyclers and corporations to securely erase hard drives - easily and efficiently.
KillDisk
is a powerful software that delivers the following main features:
Fast erase data on the entire hard disk drive surface, supports parallel erasing of large numbers of disks (hardware-limited)
Destroy data permanently with a choice of dozens of international disk sanitizing standards including US DoD 5220.22-M
Sanitize external disks (USB Flash, external HDD/SSD) connected via USB ports
Examine disk integrity and overall stability, disk verification and detect bad sectors
Auto-erase mode sanitizes disks and prints certificates without of any user interaction
Hot-swap operations are fully supported, erase could be auto-initiated upon HDD plug-in
Browse file systems on disk volumes and inspect particular sectors Hex Viewer on a low level
Issue customizable certificates and detailed reports for disk erase and examination
Print different types of labels including bar codes to be attached to hard disks after erase completion
Provides enhanced information about disks including S.M.A.R.T. monitoring
Export local erase history to the external SQL databases or CSV-file
Wipe out unused clusters and meta-data on live volumes, leaving existing data intact
Provides fast low-level Secure Erase feature for your SSD drives
Resume interrupted erase from the point it stopped for different reasons
Write a Disk Image or copy a Master Disk to erased disks
and more...