Software Licensing
KillDisk Industrial
is supplied with a security USB key that contains number of licenses being purchased (one license is required per disk slot where HDD/SSD is plugged into).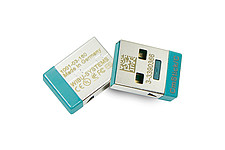 This key must be inserted into any USB slot on the PC before launching
KillDisk
software, otherwise software authorization error pops up.
Note:
Security USB dongle is NOT a regular USB Flash Disk, this is specially designed hardware token for the software authentication. It cannot easily be replaced if lost or damaged. Please keep it safe, otherwise you need to pay a full price for the license replacement.